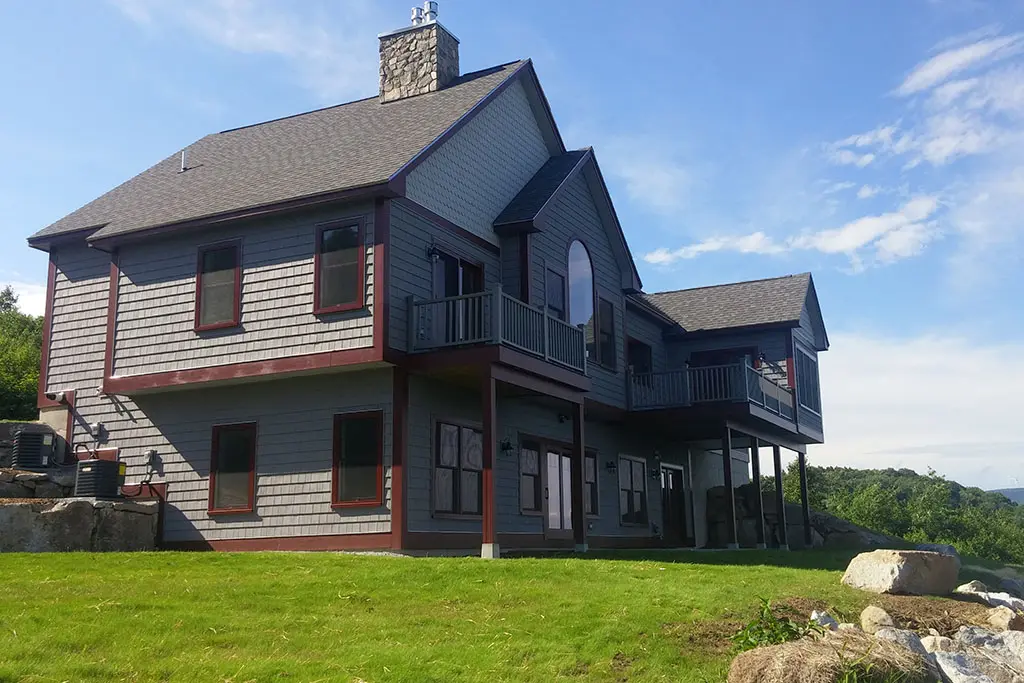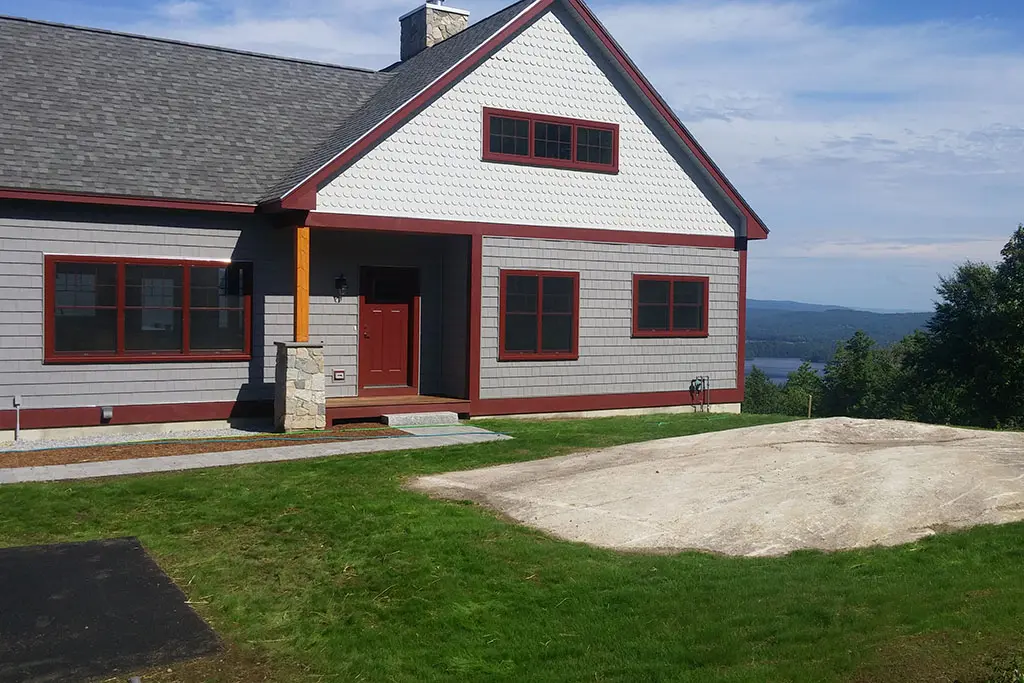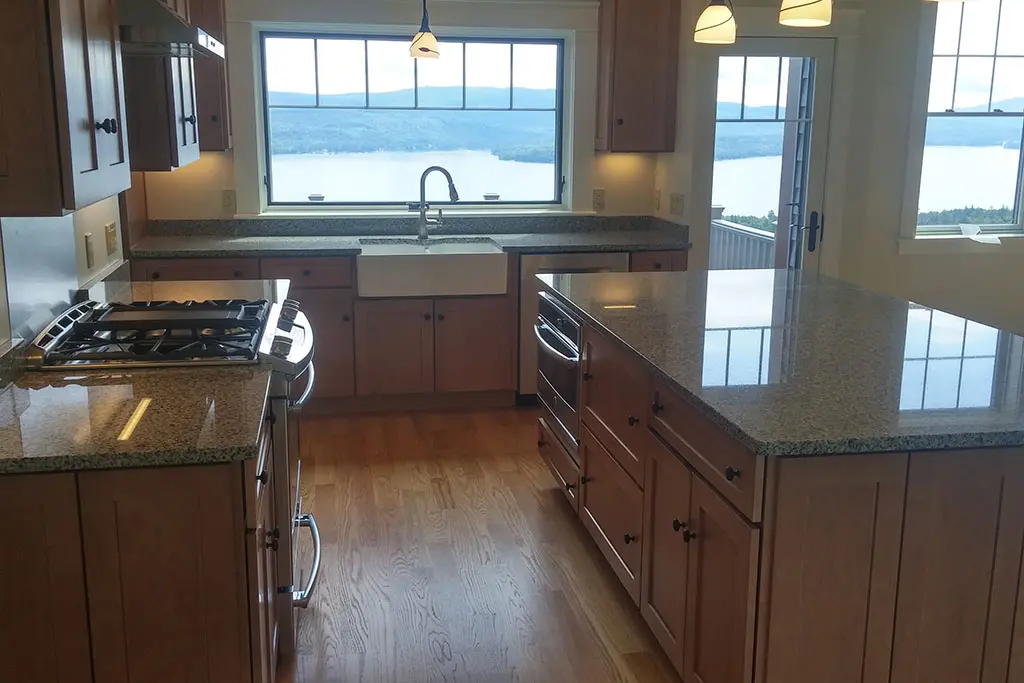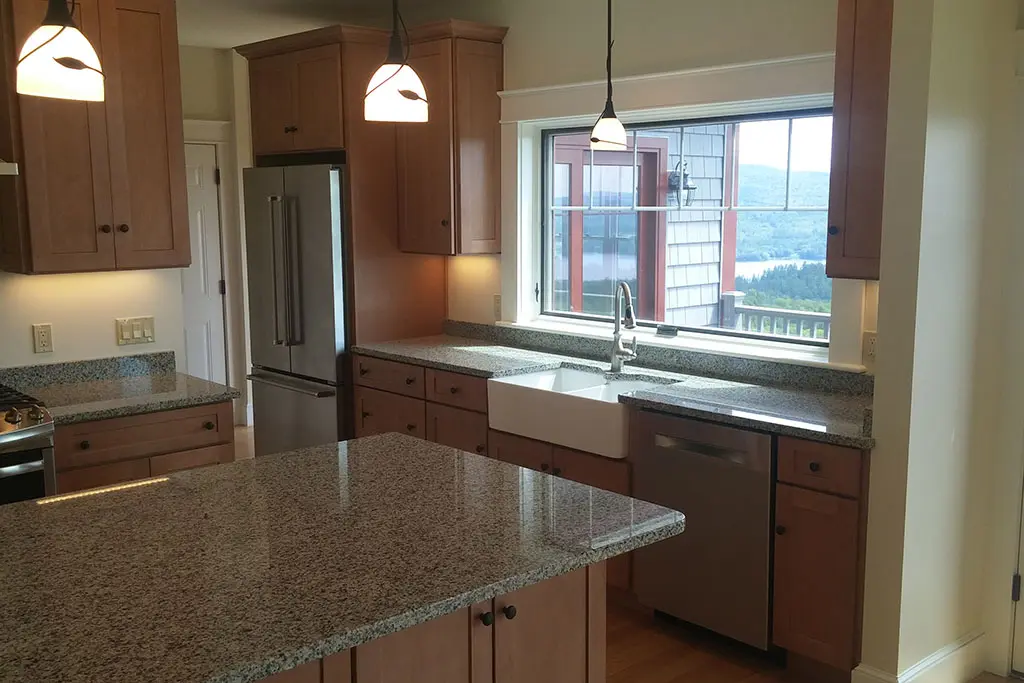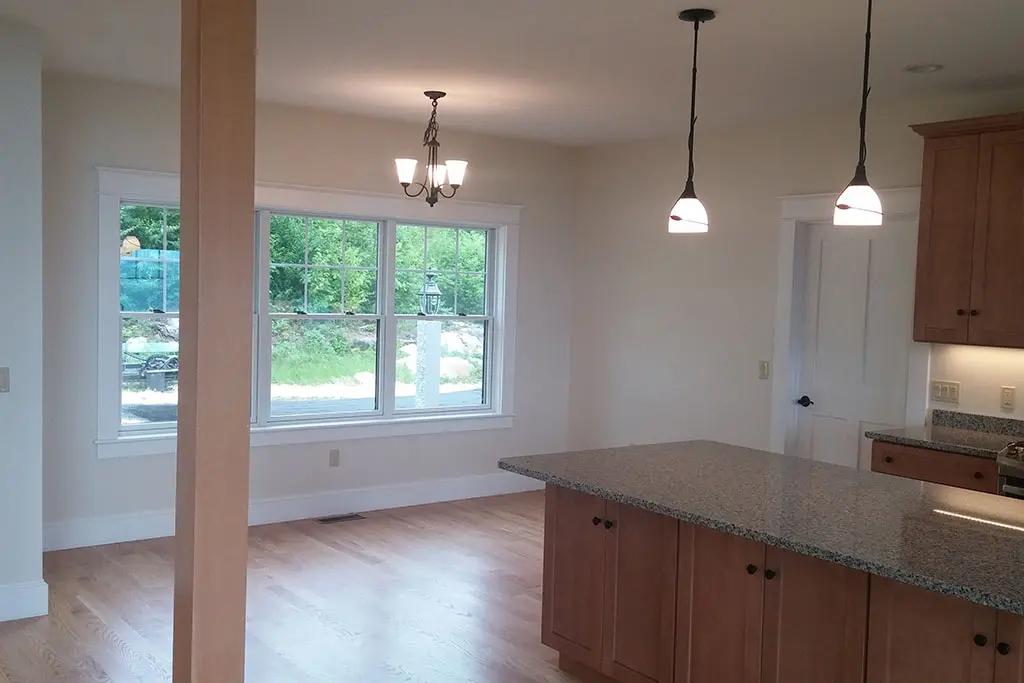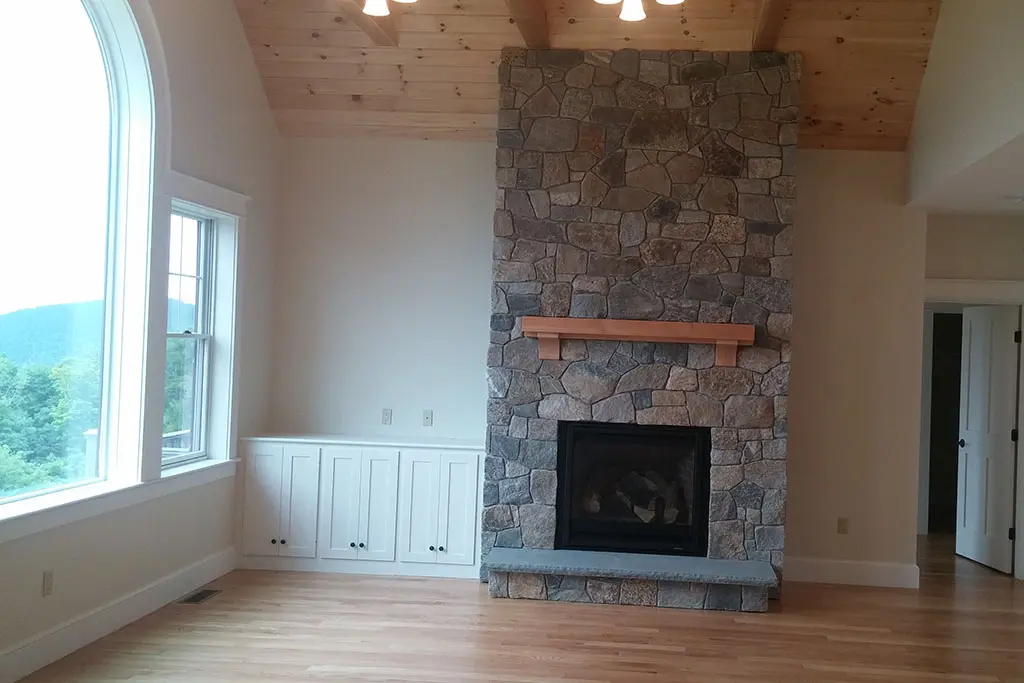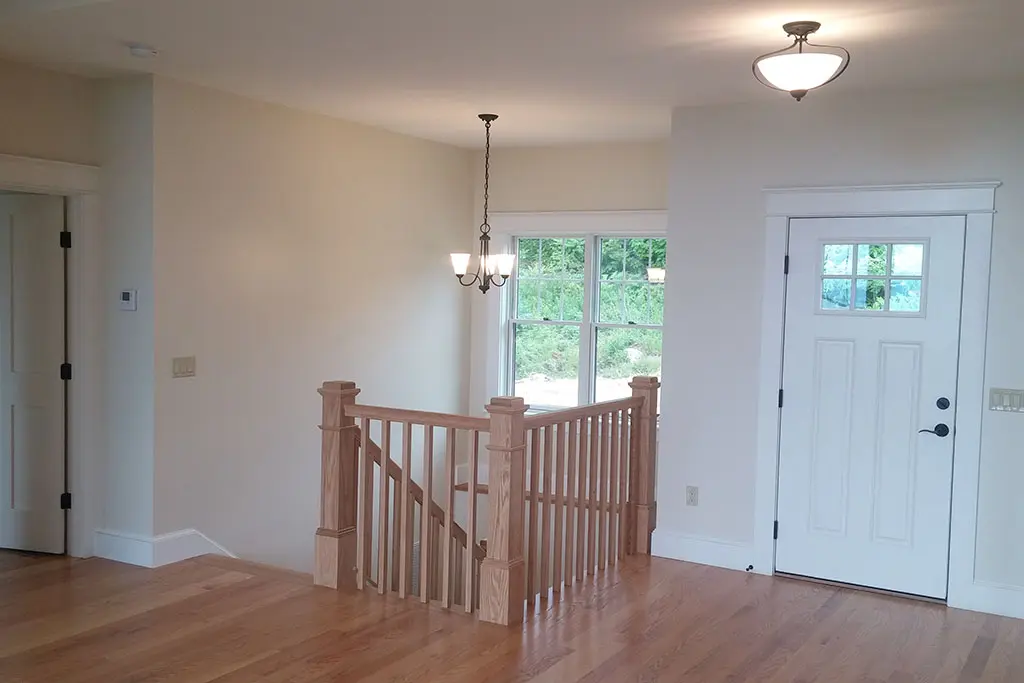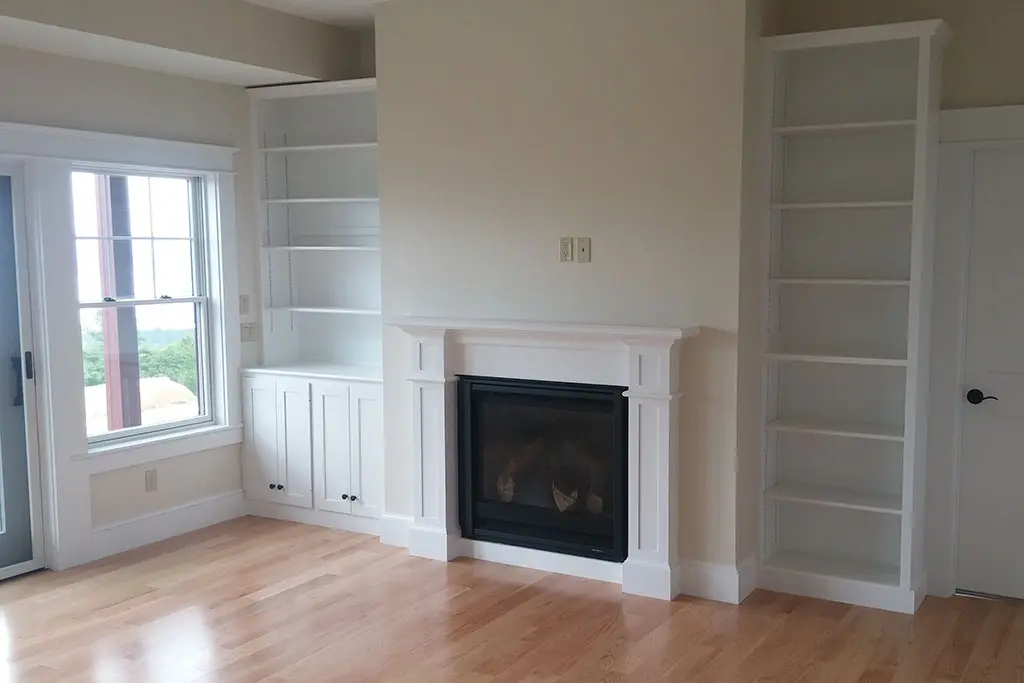 This area that is now the lower level was all ledge. We blasted 12 feet deep and spread the rubble out to create the building pad. We kept the exposed ledge in the front yard and some other natural landscaping details. We had to design a narrow house to find this lot and working with the owners, we came up with something that they loved. We utilized real thin veneer stone above the main gas fireplace and chimney.
A home is not just a place of residence, for some a home is an establishment wherein they would feel the most comfort. It is a place that would provide them a sense of security knowing that they are in their own house.
Initial thoughts upon having to build your own home will surely kick in, taking into consideration all the expenses in property acquisition, consultation fees, materials, equipment, and labor. All those capital and operational costs will definitely give you a hard time consequent to choosing whom to trust with the construction processes to make sure that everything will all be worth it.
KILL MOUNTAIN BUILDING Co, LLC got your back!
With your dream house in mind and with our help, we can build a home that you'll definitely love, making the house that you've always fantasized about having will come into reality: may it be your primary home or just a place for your weekend getaway.
Why choose Kill Mountain Building Co, LLC as your custom home builder?
Kill Mountain Building Co, LLC is an authorized builder for PBS Modular Homes. The idea of having a modular home has been around for years but as time flies a wide range of advancements was made in the field of technology. Thereafter, opportunity and advantage that leans to the side of success for the making of more modular houses come in. Good news because we at Kill Mountain Building Co, LLC is the perfect builder company for the job.
What are these advantages you may ask?
Superior Strength of the Product and Exceptional Quality
In the making of these modular houses, they are built with 1/3 more structural materials to make sure that the structural integrity is on point as well as the acquired strength capacity; both are better compared to traditional site-built homes. Upon the building process, excellent building techniques were applied prior to the consistent techniques that were already used which in turn results in exceptional quality. An additional factor for the superb quality is the location where the structures were built; it is done in a climate-controlled environment so the required materials for the building project will avoid unwanted repercussions. Application of strict quality protocols and timely inspections that ensures that built modules comply with the approved stamped plans, therefore, producing modules that are top-notch and will make a better living space for you and for your family.
Time and Cost Effectiveness
Since it is built in a controlled environment, chances are materials will be done on time or as planned because unnecessary problems will be avoided. Where in on-site home projects requires more time than modular houses for the reason that it is built within the field that is more vulnerable to construction delays due to environmental factors. Of course, it will then reflect a positive effect on the expenses. There are times where you personally can lessen the expenses put up for the project depending on the design or layout that you have chosen from a variety of choices we can show. The purchasing of materials is also bought in bulk resulting to cost savings.
Location and Transportation
Having PBS situated in a geographically positioned place allows easy access for effective and efficient distribution to the assigned builders in a certain area. We also have our own set of trucks where it would allow faster delivery of modules because of the operative scheduling of transportation of the designated team at PBS.
Manufacturing Capacity and Environment-Friendly Building
Manufacturing space for PBS is at 300,000 square feet approximately allowing 1,000 living units to be produced each year. Imagine having this much space for production, you can't even think of having any delays in a single project. The manufacturing process also aims to produce environmental-friendly products all while keeping the product waste at a minimum rate. What's more, to it is that PBS offers green living wherein every module unit saves energy while giving you high-end quality build packages.
Client-Friendly
It is always a good way to start things out with good communication between you and the team that you are working with to prevent misunderstanding that would lead to further disagreement along with the making of the project. Here at Kill Mountain Building Co, LLC, we give you our dedicated and enthusiastic workers on the line that will best provide our customers with innovative and cost-effective layouts, designs, and construction. With years spent working in this line of trade, we make sure to listen to our customers' wants and needs that they would like to be made. So to say, we have built homes for our clients over the years providing quality services to each and everyone we had worked with in the past and hopefully keeping up with the service that we gave and delivering better outputs projects after project.
Consultation
Pre-construction consultation allows you to have the assurance that all the goals that you are aiming to reach are well-outlined; starting from initial planning of concept, site evaluation, budget goals, and general construction planning up to the overall evaluation of the project itself. This would be the advent of the construction of your dream home and that is what makes it one of the important aspects of the project. From the very beginning of the project until completion, Larry Kill, the owner of Kill Mountain Building Co, LLC himself will work with you hand in hand. He will personally aid upon locating the home of your choice since there would be a lot of consideration and things underlying that come into play upon sitting a house. Along the way, he will guide you and explain things that you are confused about so that you will better understand things yourself.
Flexibility of Design
In terms of designing the house of your dreams, it is totally up to you if you'll be the one who will give the prior design or layout of the house that you would want the team to build. For instance, you don't have any idea what will be the outlook of your home then Kill Mountain Building Co, LLC will help you along the way upon figuring things out. Larry Kill will personally sit with you and talk to you about the things that you would want to achieve in your desired home. From scratch, he will initially show you how it would look like. There are also presets of house designs or references from the websites that will be suggested during the conversation that you could choose from. In cases that you find yourself on a tight budget and still looking to make a comfortable home, it would not matter since our construction company will aim to design and build your dream home all in accordance to fit your budget and would still put into consideration your insights that would meet your vision, standards, and taste.
Experienced Management Team
Having a limited budget does not reflect the grade of our work. In most lines of work, you get what you pay for, Larry Kill quoted. We at Kill Mountain Building Co, LLC seek to maintain the standard and sees to give the best quality in all aspects of our work regardless of the budget given. Every builder, developer, and architect is always on the lookout for better performance in every module project. Putting up a small capital does not instantly mean that we would hire cheaply paid men to work on the project. Through the years, Larry Kill works with the best subcontractors that he had worked with and they would only give charge at a fair rate because of the length of time Larry had chosen them to be his subcontractors. Hence, the unaffected quality of workers even with the amount of capital rose for the project.
Construction Services
We at Kill Mountain Building Co, LLC will offer services from design to completion. With an amazing 30 years in the building industry, we can assure you to build the house of your dream and of your choice. We do construction management and residential custom home building for our customers. We make sure that everything is in high grade, inclusions of the construction materials, layout, and reliable workers with a set of skills and knowledge of the field they are working with will be of use during the construction of each and every project that we will make.
Kill Mountain Building Co, LLC provides one of the best services in the industry, giving premier residential home builders in New Hampshire. With the presence of coordination between professionals in home designing and building; we work closely with one of the top architects in the area and top-of-the-line subcontractors delivering exquisite outputs there is. We offer customers custom stick-built and modular homes in the Lakes Region of New Hampshire including the towns surrounding the New Foundland Lake, Winnisquam Lake, and Lake Winnipesaukee regions.
Kill Mountain Building Co, LLC, a New Hampshire custom home builder of residential property is serving the New Hampshire Lakes Region. Building homes since 1988.