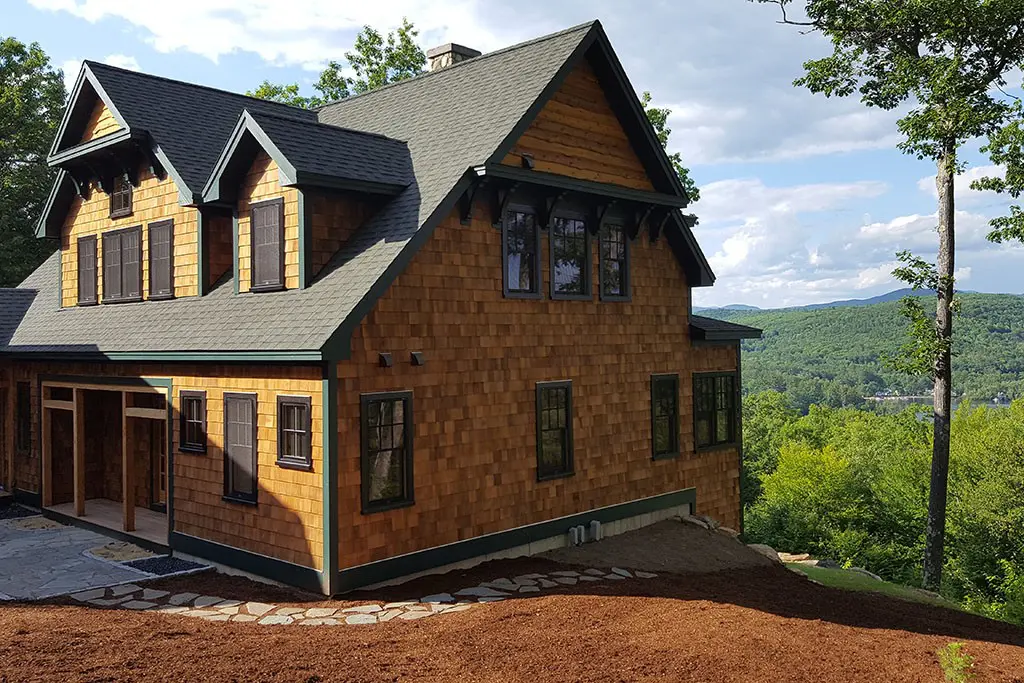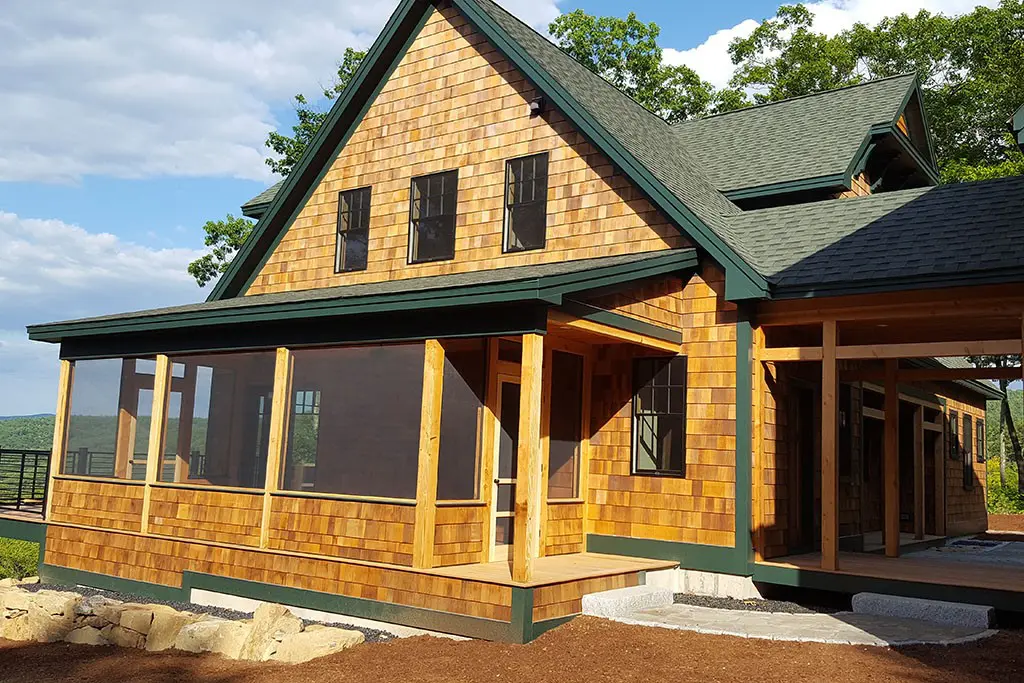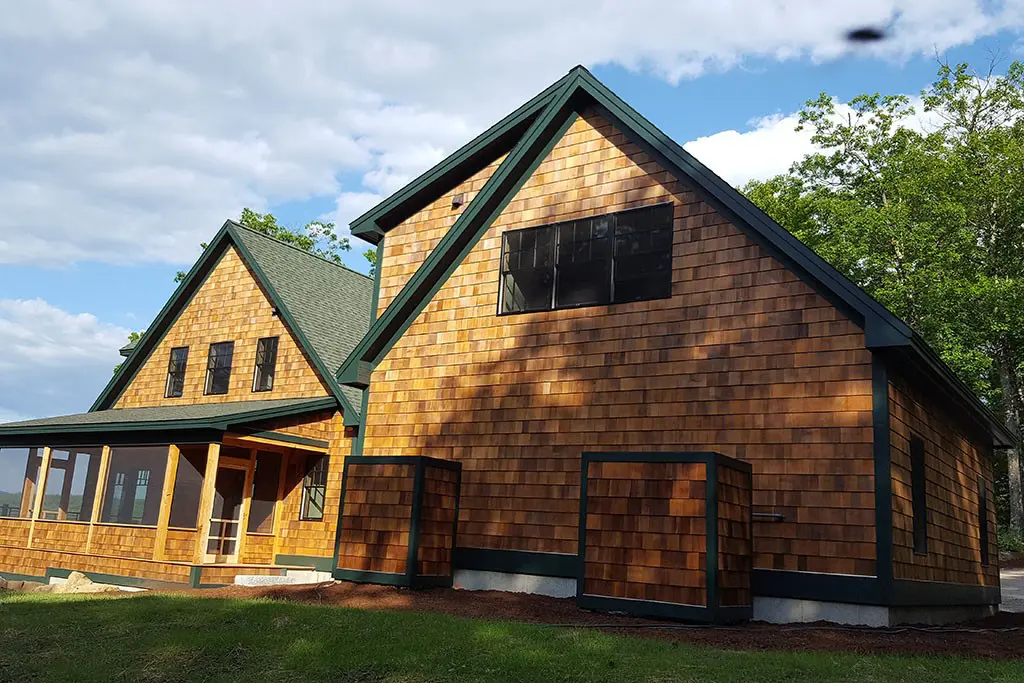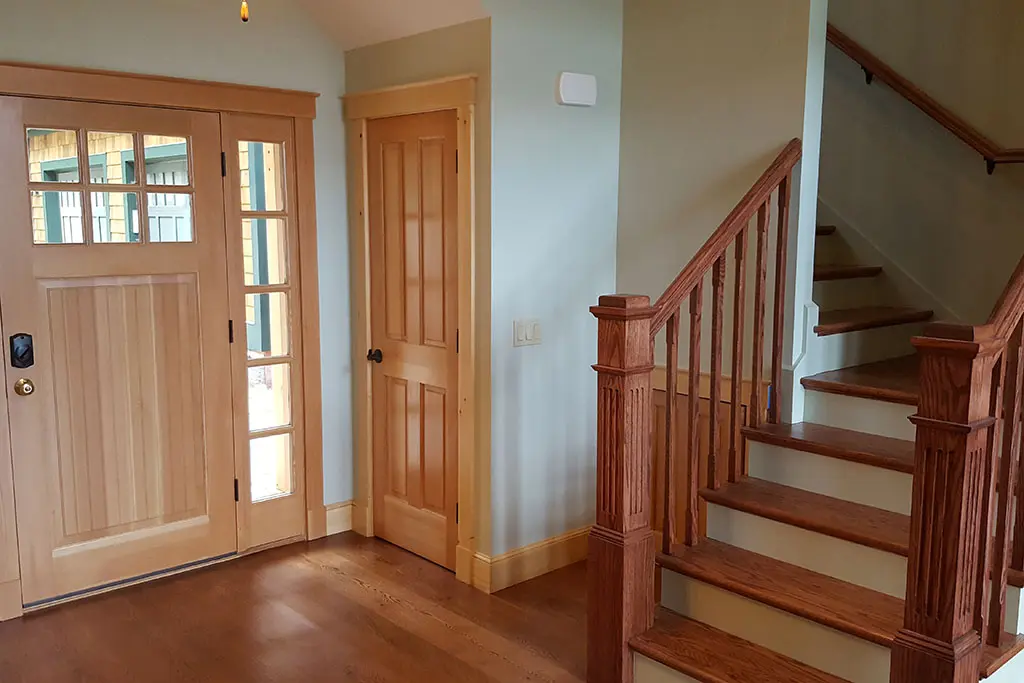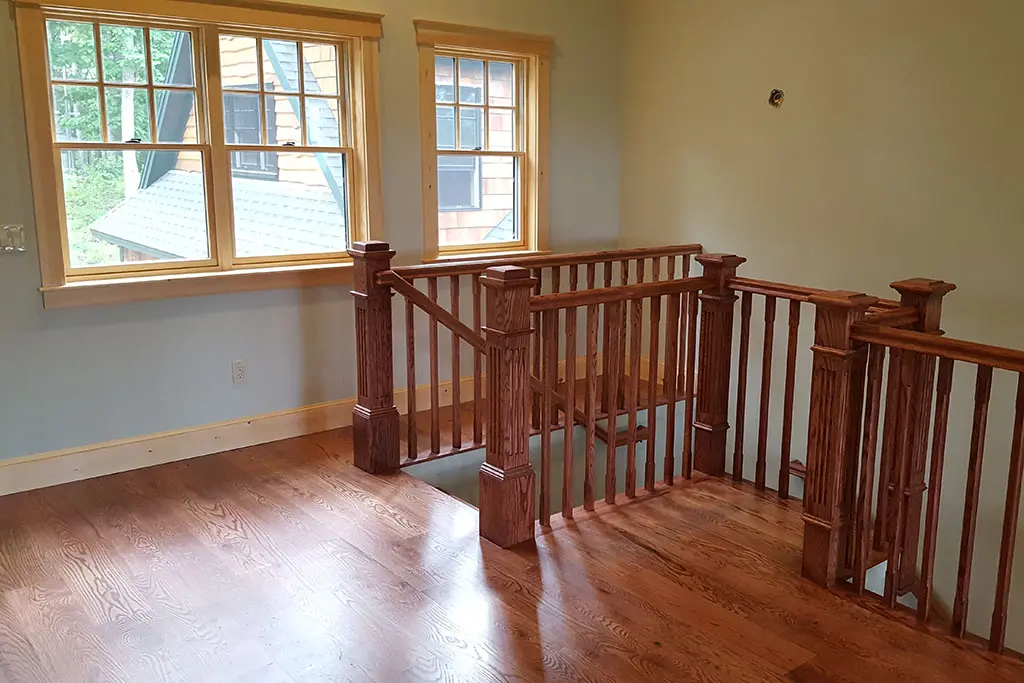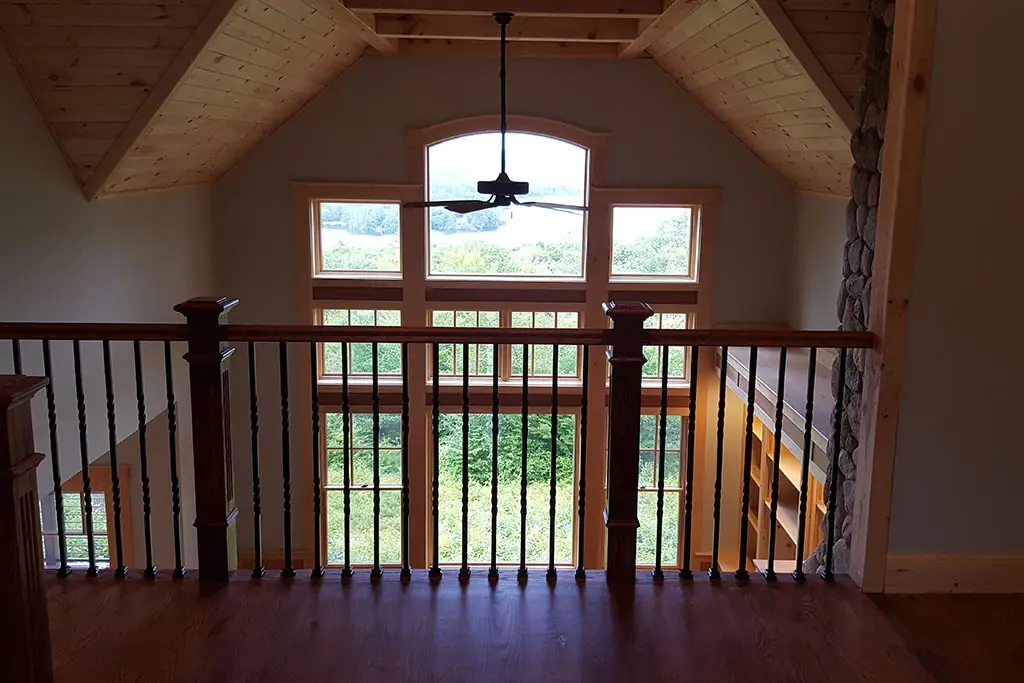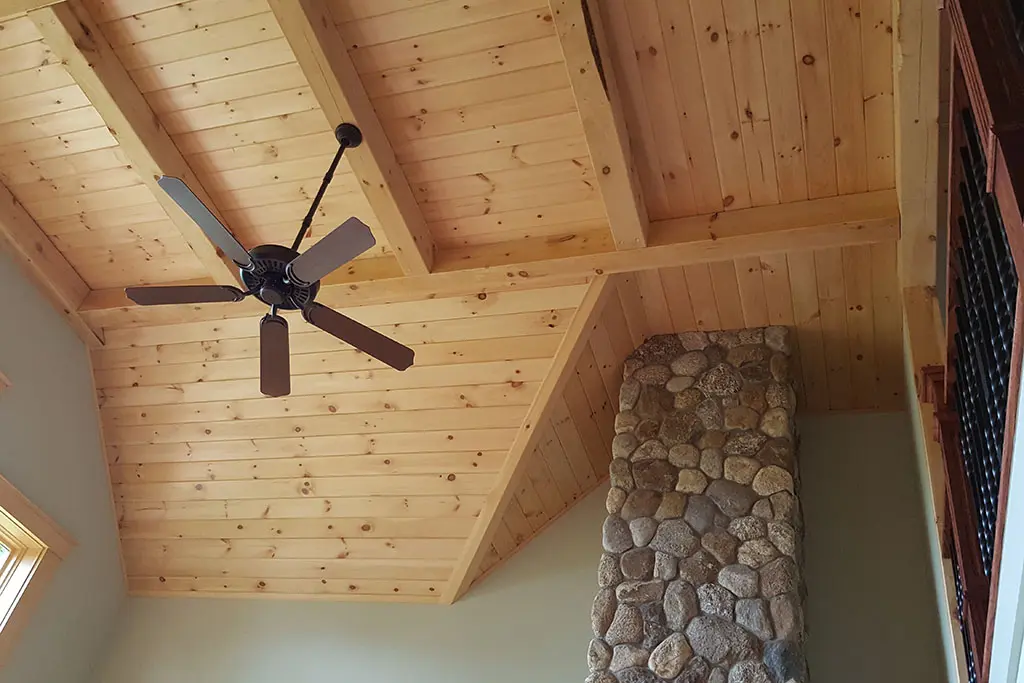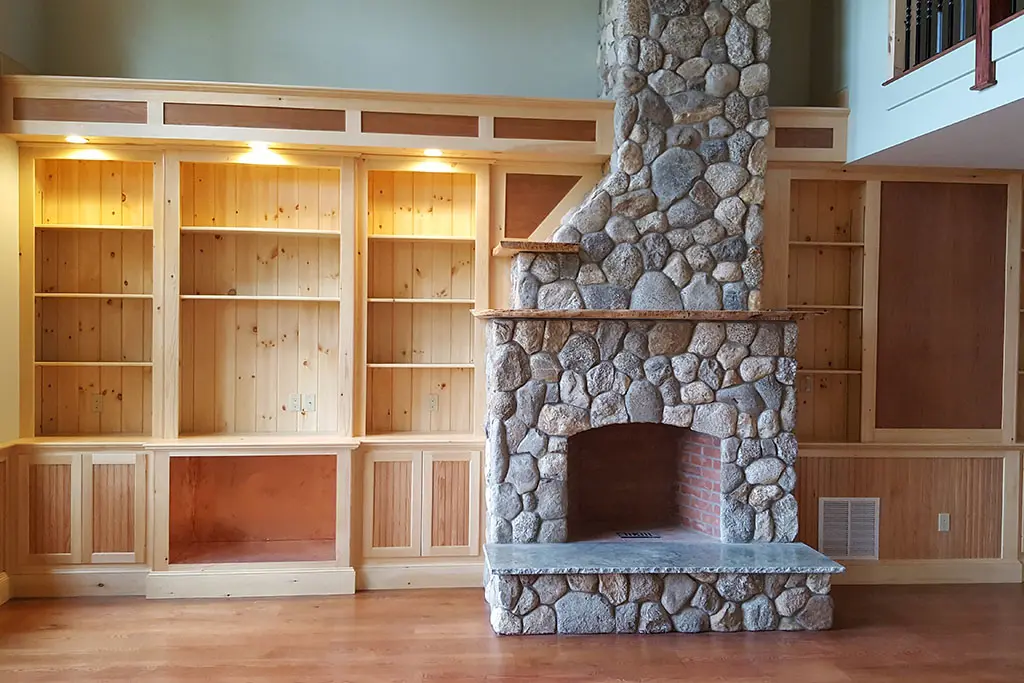 This building lot was 99 feet wide and solid ledge and had a fairly steep slope on it. It boasts a closed-loop geothermal heating/cooling system that we could do with 3 boreholes. The siding is elite western red cedar shakes with red cedar live-edge horizontal siding on some of the A dormers. Flooring for the second floor is 5″ and 7″ red oak mixed together. The first floor has 9″ white oak planks brought in from the west coast. The interior posts and beams are from native pine and came from a local logger cut specifically for this house and we acclimated them on-site for 2 months before cutting the mortise and tenon joinery and installing them. This has a full stone masonry fireplace, custom-built cherry kitchen, and site-built bookshelves with soffit lighting. The garage has heated auto bays, and a finished bonus room over it with a wet bar, full bath, a sleeping area with custom-built bunk beds, and is finished to match the main house. With all the ledge and the lack of previous soil, we put a few catch basins in the yard and piped the runoff to daylight.
This kind of house is located near the squam lake which you can enjoy nature and animals especially the birds and other animals living at the lake.
WHY IS IT RECOMMENDED TO LIVE HERE?
Squam is a pristine, crystal clear lake and very special to those of us who live and work here.  When out on the lake look in almost any direction and you will see mountains, Red Hill, the Sandwich Range, Rattlesnake Mountain, and more. In the fall, with the changing color of the leaves, it is spectacular.
Come explore our extensive hiking trails and gorgeous views from our mountain tops.   There are beaches you can hike into and take a swim! In spring, summer, and fall enjoy kayaking, canoeing, sailing, water skiing, fishing, and swimming on Squam. In winter enjoy cross country skiing on the many trails throughout the area. Downhill skiing is a short drive to Waterville Valley, Cannon, and Gunstock.
In winter you can even get your fresh fish from the lake by ice-fishing (don't forget your fishing license).  You can see iceboats, if weather conditions are right, on Squam and surrounding lakes and ponds. Therefore, food is not an issue because if you will just work for it you will get food for free of materials, it can only cost you your labor or work.
Also having this home is very beneficial to those people who already retired, because this kind of house and place could bring peace to them because according to research living here with the calm waters will give us a deep calm conscience and it can help us depression too. We can also meditate here because of its quietness, we can hear nature.
It is also recommended to live here is that if you want to put up a business like for example a restaurant, it will be very feasible because, lakes are considered to be a tourist spot, therefore, you can make a good profit out of it; and when talking about profit, this is very profitable because there are fewer competitors or sometimes no competitors at all, so it is somehow like a monopoly, so you will be providing to all the markets in that area.
Most of the advantages of owning a lake home are glaringly obvious, while some aren't as easy to spot at face value.
First, mortgage costs–which are typically fixed-rate payments–are more stable and predictable than rental rates, which are known to fluctuate. Additionally, buying is often cheaper than renting.
When making the switch from renting to owning, the average person adds one bedroom and 400 square feet to their home, according to Zillow's 2017 Consumer Housing Trends Report.
Assuming they make a 20 percent down payment and a typical monthly rate, the average renter could buy a larger home and still pay $330 less each month on their mortgage than if they were renting.
WHAT IS THE DIFFERENCE BETWEEN SQUAM LAKE CUSTOM HOUSE BUILD AND ANY OTHER REGULAR HOUSES?
Squam lake custom house is a kind of house that is semi-concrete, bungalow but the bigger style and spacious, it has a very unique style; while the regular houses usually its all concrete, usual house (not unique), and it is bigger to look at the outside, but smaller in the actual size when you go inside.
Squam lake custom house is also more on native design, as we have observed if we see in the actual picture of the house it is more on ancient designs, and too woody, the traditional design of the house, and also we can see that usually bricks are being used in building this house; while the Regular houses are more on modern designs that usually it has finishing touches, it is smooth looking, it is more on the advance technology design.
In terms of ventilation, the Squam lake custom house is colder naturally, with the natural air coming from the lake and trees, you can live in it without any electric fans and air-conditioners; while at any Regular houses, it is hotter, depending on how concrete it is, so, in living at this house we need an electric fan and air-conditioner. So, therefore, it is more healthy to live in a Squam lake custom house because we can receive fresh air by living here.
DISADVANTAGE OF LIVING IN A SQUAM LAKE CUSTOM HOUSE BUILD
As with any home, ownership of a lake home does come with its disadvantages.
For starters, owning a home is essentially growing roots. It ties you to your community and makes it difficult to just pick up and leave.
This long-term financial commitment includes high up-front costs like down payments, closing costs, and moving expenses. Plus, in many cases Home Owners' Association fees are inevitable.
It's also harder to qualify for a loan on a second home than on a primary residence. Those shopping for secondary residences are often expected to have higher credit scores and put more money down.
According to U.S. News and World Report, the higher down payments reduce the lenders' risk if the borrower defaults, which is seen as more likely with second homes.
Another disadvantage: as a homeowner, all repairs and maintenance responsibilities fall on you.
And lake homes tend to require more frequent repairs and maintenance. Since lakes are usually surrounded by more trees than the average neighborhood, structural damage to roofs/buildings are a real threat.
Lake homeowners also have to fight against mold and mildew, which is more prevalent thanks to all the moisture in the air.
In addition to all of that, traditional wooden docks tend to have a lifespan of 20-25 years. This can be shortened in the face of environmental factors like storms or water damage, so frequent upkeep is a necessity.